Khwaja Khurshid Anwar (1912-1984): A Tribute

More Photos and More Songs
This page is under construction.
Photos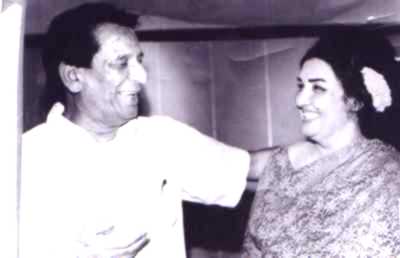 KA and Noor Jehan (1968-69) KA and Mehdi Hassan (1971-72)



The following four are from the muhuurat of Nishana, Bombay KA, Nakshab and Naushad (1949)
KA and Naushad (1949). Compare the hair!



KA and well-wishers (1949). From left to right, KA, Nazir (editor Musavir), Malka Pukhraj, Syed Shabir Husain Shah (her husband), M. Sadiq (famous producer of Muslim Socials), Nakshab, J. K. Nanda, Wajahat Mirzaa



KA and many famous producers and directors (1949).Sitting from left to right, Seth Jagat Narain, J. K. Nanda, KA, Mehboob, V. Shantaram, A. R. Karadar. Behind them the Sikh gentleman is Mohinder Singh Bedi, Urdu writer. Directly behind Shantaram in 3rd row is Shakeel Badayuni.

Songs
Here is a selection of 17 more songs.


Assistant Music Directors in India

Khurshid Anwar composed music for 10 films in India , 8 in Mumbai and 2 in Lahore( before partition). Except for Gadekar, others just worked under him for one film each.


KURMAI (Punjabi)
1941
G.M.Durrani
ISHAARA
1943
S.K.Prem (He was brother of MD A.K.Prem)
PARAKH
1944
Gadekar
YATEEM
1945
Gadekar
PAGDANDI
1947
Pundit Jawahar Lal Mattoo (son of Jivan Lal Mattoo, famous classical singer)
AAJ AUR KAL
1947
Prem Dhawan

PARWAANA
1947
M.A.Mukhtar Qureshi (he composed for one film - CHEHRA(1947).
He was killed in communal riots in Jallandhar -1947)
SINGHAR
1949
Roshan Lal
NISHAANA
1950
Albuquerque
NEELAM PARI
1952
Sebastian
Copyright Khwaja Khurshid Anwar Trust
and Irfan Anwar who provided this material.
Please send your comments and suggestions to
anwar06@msn.com